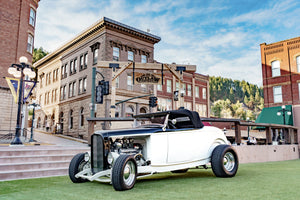 2020 Car Show Winner
2019 Car Show Winner
Kool Deadwood Nites
Live Concerts
KOOL DEADWOOD NITES
Kool Deadwood Nites is the annual Classic Car show and live music event you don't want to miss!
Hop 60 kool years back every August to the righteous days of burnin' rubber, slug bugs and havin' a gas of a time in Deadwood, South Dakota, a western mining town rich with gold and tales of the classic American Wild West, celebrates a nostalgic heyday of beautifully restored hot rods and muscle cars, accompanied by greasers and beauty queens in poodle skirts. Take a nightly stroll on Historic Main Street listening to your favorite 50's and 60's rock-n-roll classics performed live on an open stage.
Be ready to dance the KOOL DEADWOOD NITES away!
Deadwood Trolley & Akela Shuttle
Kool Deadwood Nites transportation will be provided by the traditional Deadwood Trolley System and Shuttle from Akela Spa throughout the event. Stay tuned for details and weekend schedule